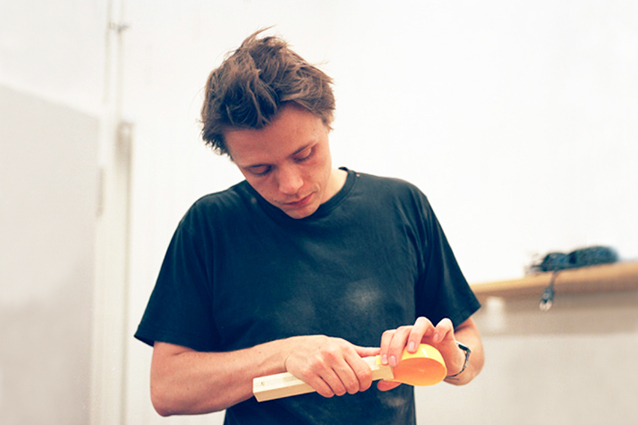 _
Brynjar Sigurðarson
www.biano.is

Brynjar´s work is very linked to storytelling and narratives, which are deeply rooted in Icelandic culture. He uses various media such as drawings,
photography, video, sound and furniture in order to convey his work in a fruitful and a specific way.

Since 2011 he has been establishing his studio along with teaching at the Masters Department at ECAL, Lausanne.

Current and recent studio projects involve work for Camper, CIRVA, Galerie kréo, Manufacture de Sèvres, , PCM, Spark Design Space. His works
have been exhibited in various group exhibitions, and he has exhibited at Galerie kréo, Paris and villa Noailles, Hyéres. His documentary,
Borgþór Sveinsson, produced by Frosti Gnarr was presented at the Art Film Festival in Den Bosch, Holland and was recently acquired as part of the
permanent collection of MAK, Vienna.

This summer, a book about Brynjar's work under the name Things that Happened, by the curator and design writer Sophie Krier and the graphic designers
ÉricandMarie will be published by the independent Dutch art book publisher Onamatopee in the series Field Essays.

Currently, Brynjar is working on various projects ranging from self-produced objects sold from the studio, furniture projects, accessories and a theater play.
An audio book, narrated by Brynjar, with stories he has collected throughout his journeys will be released this June.

"Brynjar's way of working can perhaps best be compared to the attitude of a hunter on a constant lookout for the unusual, becoming one with the very
world he's studying. He lets himself be taken in by a place, its materials and habits, and intuitively reassembles these elements into ritualistic objects and scenes." (Sophie Krier about Brynjar's work - Things that happened, Field Essays, 2015)

"A big part of my work deals with the Icelandic fishing and harbor environment, started with a one month stay in a remote fishing village in the
NE of Iceland, called Vopnafjörður. Since the trip, I have continuously worked on "exercises" and examinations on how to translate shapes, materials and
details from the harbour and the coastal environment. The objects vary from furniture with abstract functions, sticks arranged with ropes and collected
objects, porcelain pebble stones, ocean like glass vases and furniture referring to the fishing harbors in Iceland."

The strength of the work tends to lie in the research and the way of approach within the field of design; to look and investigate cultural values and
translate them in the shape of objects. In this case, the initial goal is to create a visual universe, speaking the language of the Icelandic fishing village.

Brynjar Sigurðarson (*1986) received a master's degree in product design from ECAL, Lausanne, in 2011, and a bachelor degree from The Iceland Academy of the Arts, Reykjavík. Summer 2011 he received the Grand Prix at the Design Parade 6 in Villa Noailles, Hyères. This year he is nominated for the Swiss Design Awards.