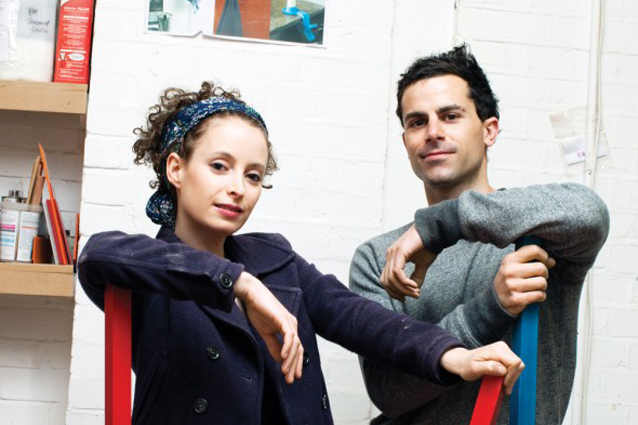 _
Raw Edges
www.raw-edges.com

Product designers Yael Mer and Shay Alkalay launched their studio Raw Edges in 2007. After having studied together at London's Royal College of Art
and working collaboratively on a design project in China, Yael and Shay knew it was about time to start their own thing. The Israeli couple have a
very unique approach to design; utilitarian but at the same time playful and outstandingly creative. When you look at the duo's exceptional furniture,
you can tell how much imagination and ingenious talent emerges from the fusion of Yael and Shay's minds.

Yael Mer and Shay Alkalay have been lifelong friends, eventually spawning a partnership and creating their own brand. The result is a variety of never before seen objects that blur the line between furniture and art.

This official collaboration between Yael Mer & Shay Alkalay started after many years of sharing life, thoughts and ideas. Yael's main focus includes
turning two-dimensional sheet materials into curvaceous functional forms, whereas Shay is fascinated by how things move, function and react.

Since their graduation show at the Royal College of Art in 2006, they have received several highly respected awards including The British Council Talented Award, iF Gold Award, Dutch Design Award, Wallpaper* Design Award 2009 and the Elle Decoration International Design Award for best furniture of 2008_09 and awarded as the Designer of the Future for 2009 from Design Miami/ Basel.

Their works have been exhibited internationally and can be found within the permanent collection of the MoMA New-York and other museums.
They for clients including Cappellini, Established & Sons, Moroso, Kvadrat, Stella McCartney, Arco, Mutina, Lema and in addition, Yael & Shay produce
from time to time unique and limited-edition designs and installations within their own studio in London. Their work has been featured in many major design publications and newspapers worldwide.
Available works :