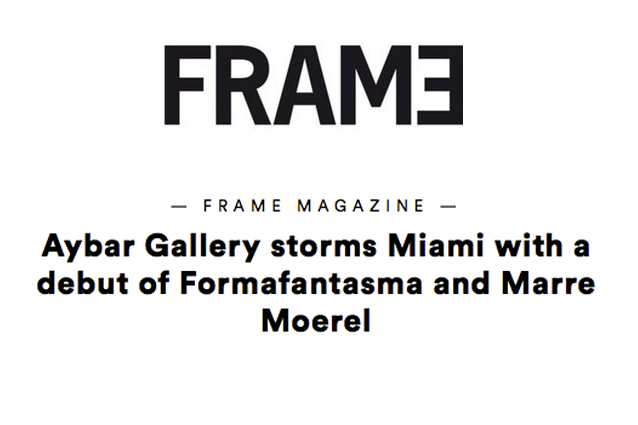 FRAME Magazine, featured Aybar Gallery opening Exhibition

April 2016
Words Jennifer Beynar
_

MIAMI – Visiting a gallery generally proposes an act of observing the exhibits. Yet, every so often, a presentation space itself plays the role of an observable piece of art work. Situated between Miami's Little Haiti and River districts, Aybar is a gallery established by Spanish design curator Fransisco Poli and German interior architect Markus Herchet. The duo have collaborated with brands and designers such as B&B Italia, Asplund, Moroso, BD Barcelona Design, Paola Lenti, Cappellini, Boffi and Quodes. Aybar is a concept which offers interior architect inspiration for private houses, museums, cafes, hotels and restaurants while presenting carefully chosen designer pieces.

With a broad range of background knowledge such as chemistry, art director Fransisco Poli picks all exhibited items with a preference for their strong sculptural aesthetic. The gallery opened its doors in February 2016 with a debut exhibition by Marre Moerel and Studio Formafantasma. Pieces of pure craftsmanship fill the room alongside conceptual ceramic tableware.

Marre Moerel is an internationally renowned designer that undertakes and explores the HILO technique. Her creations include limited edition vases and tableware in shapes that suggest unrealistic connections between the use of material and its appearance. The vases' dyed ceramic thread-like finish give a warm impression of soft textile but in reality is hard-baked ceramics.

Aybar welcomes the collection of heritage and Studio Formafantasma takes design back to its natural origin. Objects inspired by 18th and 19th century experiments, dating to the time right before the invention of Bakelite plastic. Using extracted drained plants and animal derivatives as the material for creation, the designers explore techniques and form raw, earthy textures. The BOTANICA pieces are regularly part of the Permanent Collection at New York's Museum of Modern Art.
More information and photo gallery :
FRAME Magazine